We are passionate about helping you keep your teeth healthy and your smile bright.
Whiten your teeth in just 15mins a day! As most other whitening kits take double the time to do the same treatment, but most LED lights only have 1-5 bulbs as opposed to ours with 16 bulbs!
Enjoy a Sparklewhite Smile for Years
Sparklewhite Teeth is always there for you, no matter what life throws your way! Of course, we're talking about those pesky coffee and tea stains or wine nights with friends that turn into morning pages of regret. Our active ingredients work into the deeper layers of your teeth, targeting those stubborn areas and strengthening enamel so you can enjoy a bright smile for years!
Safe & Effective
Our Sparklewhite Teeth products are dental grade, FDA approved and 100% safe to use. The active ingredient in our teeth whitening treatments is hydrogen peroxide – a common but effective way of making your teeth whiter!
Whiteness may not last forever; however, with the right care with a Sparklewhite Teeth Treatment and or a Sparklewhite Teeth Whitening Kit, you can keep your teeth looking good as new for many more decades.
High-Quality Teeth Whitening Treatments
Discover the power of a Sparklewhite Teeth In-clinic treatment or our brand new at-home teeth whitening kit, we provide an affordable and effective service that will make you feel confident about your pearly whites every time!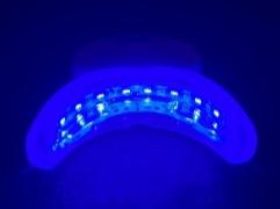 BLUE 16xLEDs
Teeth Whitening & Anti-bacterial Treatments for Gum disease, Periodontal disease, Cold sores, Ulcers, Pre & Post surgery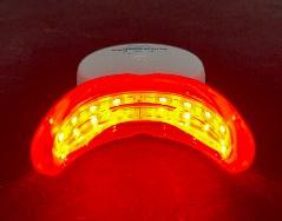 RED 16xLEDs
Gingivitis, Periodontal disease, speeds up the healing after Oral surgery & growing gum tissue for those with receding gums from brushing too hard, this also helps strengthen tooth enamel. Maximum use is 15mins a day.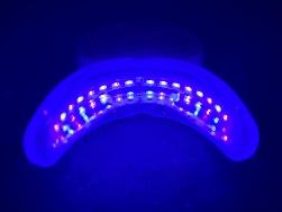 PURPLE 16xLEDs
Combines both colours for teeth whitening & healing gums at the same time. Once whitening is completed, continue to use the RED only for faster gum healing after oral surgery, gum disease, receding gums, or strengthening tooth enamel.
Storage: Keep the whitening gel pen in the fridge or dark cool place under 20°c so that the gel does not go runny and deactivate the ingredients or go yellow. Expiry from opening is 12mths.